Table of Contents
Originally this was what we called the "black SecurID" but these have 2C dies in them as well.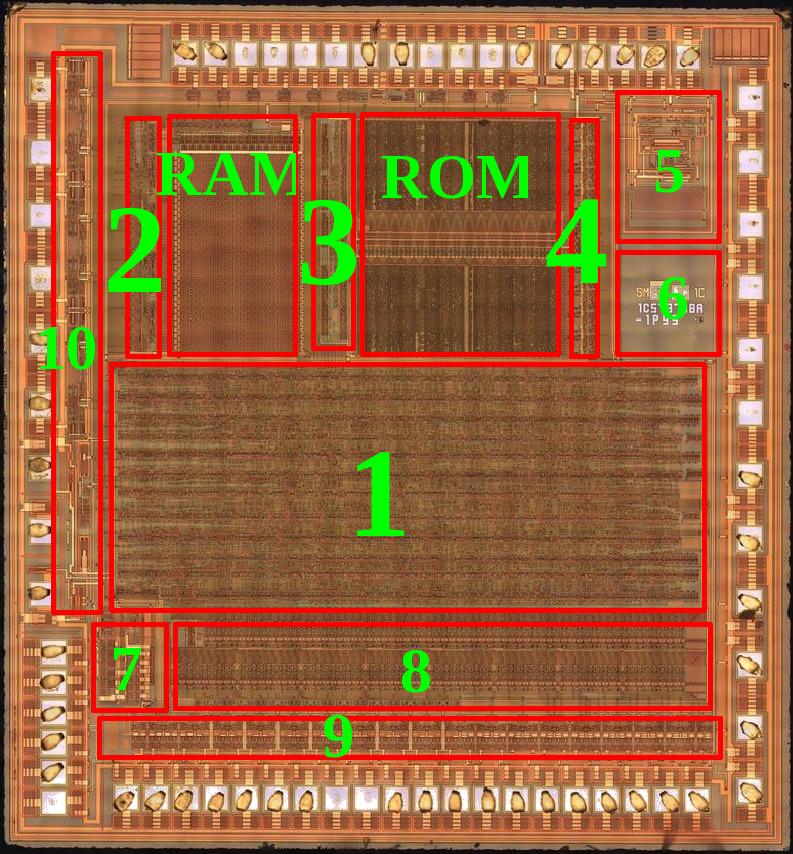 Image
Sanyo LC573718A
securid-1c573718a-1p39
securid-1c573718a-1p95
Cells
Sector 1: (CPU) cells
Main standard cell area. Probably what one would call the "CPU"
Sector 2: cells
Standard cells in two columns. The left column is solid and the right is maybe 4 discrete areas
Sector 3: cells
Sector 4: cells
Memory
RAM
SRAM
There are essentially 4 different types that are mirror images of each other. This is the upper left hand cell and the others can be derived from it pretty easily.
Composite polygons:
Raw layers:
Project: final.tar.bz2
ROM
Mask ROM. Optically visible. delayered1 shot makes this easily readable.
Sector 5: osc?
Looks like analog circuitry. Could be the clock.
Sector 6: markings
The only text on the die. Reads:
SMSC 1C 1C
1C573718A
-1P95
Sector 7: ?
Sector 8: LCD decoder?
Sector 9: LCD driver?
Sector 10: ?
Pads
Scattered like roaches. The padframe is on all four sides. The left side is non-linear as it has two distinct blocks.